I LOVE me some Target. I can never go into that place and come out empty handed. It makes my soul happy. Really. How can it be that much better than any other place, not sure. I just love it. Love the dollar spot, love the clothes, love the seasonal, the home goods. Love it all. Clark and I use to roam aimlessly through the aisles dropping things in the cart that we did not even know we needed until we got there. It is my happy place.
Totally wish that was me!
We do not have a Target in my town, but there is one 20 minutes up the Interstate in Lexington. It is not far, not hard to get to, but just far enough. I was thinking about it this morning in the shower (again) that I have not been to Target since AUGUST!!! Yes, you read that correctly. I guess that having twins and going back to work has not allowed for me to have the time or energy to get there. Let alone the extra money. Boo! I miss that red cart and that clearance rack!
My life is wonderful, don't get me wrong. However, today I am longing to leave the stack of papers that need graded, not give my babies a bath and have stinky babies for just one more day and head to my happy place. I think they miss me there. I think a diet coke, some popcorn and that red cart are just what I need! That is not too much to ask right??
These are the random thoughts that swim in my head. Could I be more random?
I have decided to link my random Monday afternoon Target daydreaming with
Carissa
at lowercase letters.
Head on over to her blog and check it out.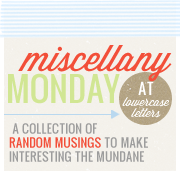 Happy Monday.